DBK Celebrates Military at 2020 Diamond Resorts Tournament of Champions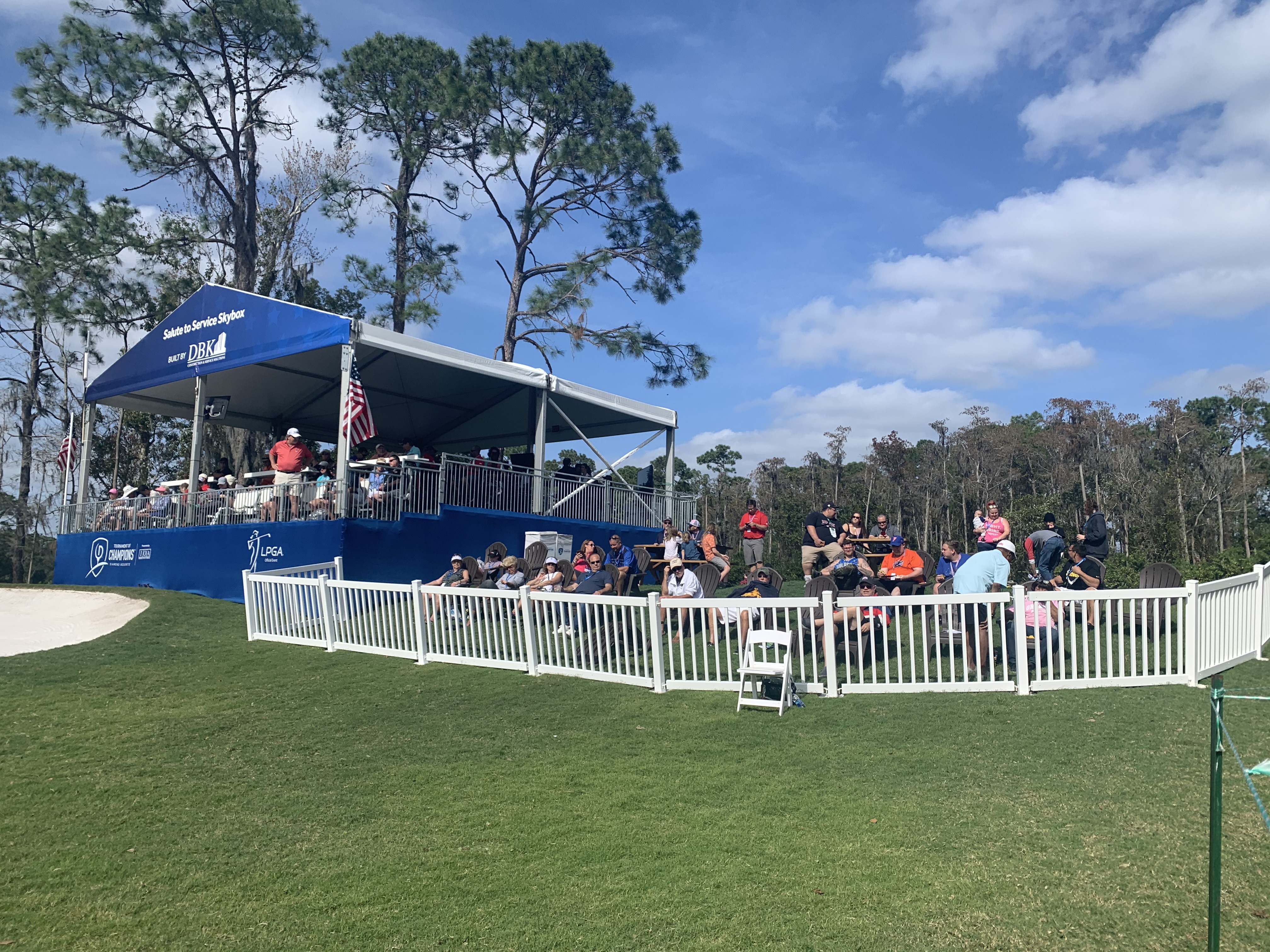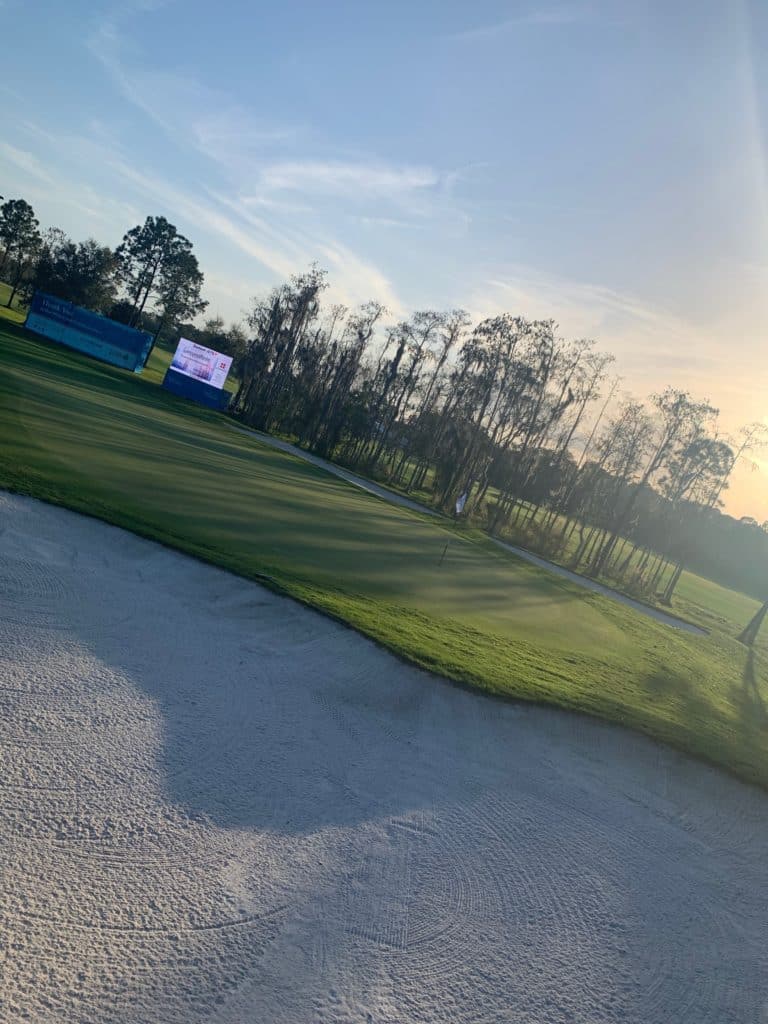 It's 7:30 am as the sun rises over Tranquilo Golf Course at Four Seasons Resort Orlando. Retired Army Cavalry Scout and Purple Heart recipient, Ryan Heard, watches from the south bank of the first green. Frank Viola, Jr., American baseball great, has just teed off and initiated a four-day sequence of LPGA and celebrity golf. Following Viola are football champs and TV actors like Brian Urlacher and Alfonso Ribeiro. And, they are accompanied by legendary women golfers such as Inbee Park, Gaby Lopez, and Nelly Korda.
This might seem like unlikely pairings for a golf tournament. However, it is a normal arrangement for the field of players at the 2020 Diamond Resorts Tournament of Champions. Steeped in eight years of transformative history, the Tournament of Champions is a party of its own right. Complete with concerts and an 18th-hole DJ, it celebrates women in golf, world-class sports and entertainment celebrities, and – America's heroes.
Salute to Service Skybox at Tournament of Champions
Ryan, a young combat-wounded soldier, joined hundreds of other veterans, active military, and first responders at the Salute to Service Skybox, built by DBK. For the second year, this skybox situated on hole one, offered our brave men and woman of service complimentary admission and a 4-day, unforgettable sports and entertainment experience on-course during the tournament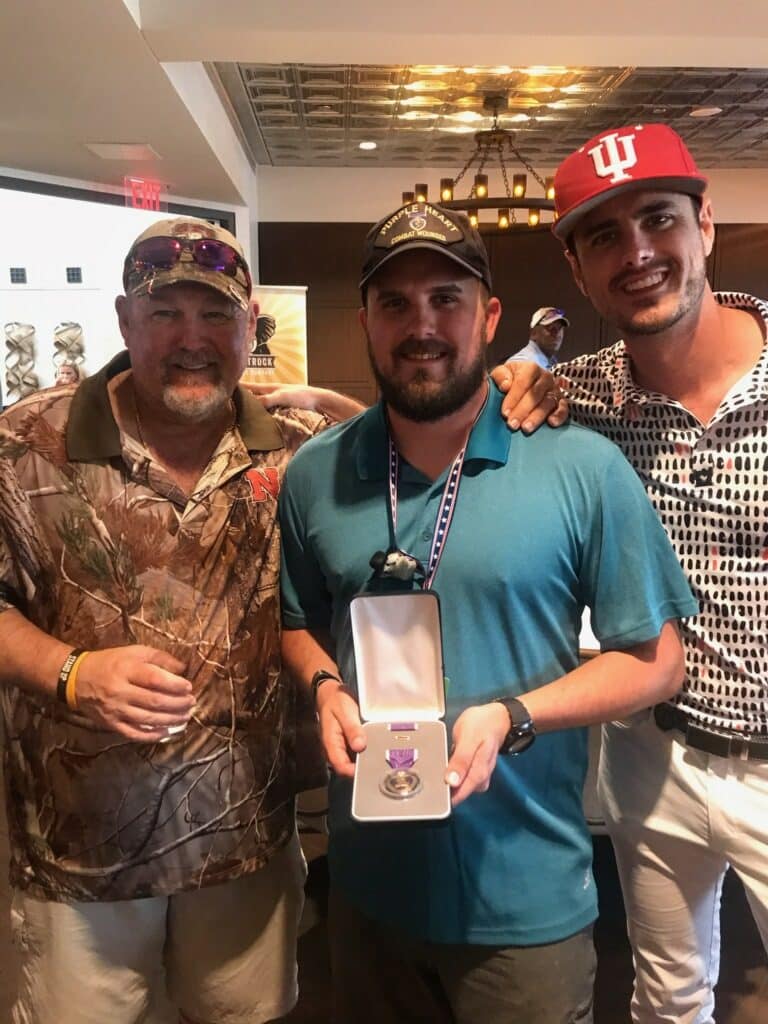 Throughout the week, the Salute to Service Skybox filled with our nation's finest, both young and old. Heard openly shared stories of his 3-time deployment to Iraq and Afghanistan. He even detailed the unfortunate moment his unit was hit by a pressure plate IED while on dismounted patrol. He and three soldiers were medevaced. Ryan, however, was left with shrapnel throughout his upper body, a traumatic brain injury, and spinal compression resulting in lifelong and daily back pain.
In true warrior fashion, Heard was optimistic and spoke of his gratitude to be alive. After his discharge, he continued his service as a Firefighter in Georgia, and a Wildland Firefighter and Police Officer in the state of Florida. Heard reversed the celebrity-fan role when he revealed his Purple Heart medallion to Lee Brice, Larry the Cable Guy, Cole Swindell, Colt Ford, and Ben Higgins.
That symbol bore the true weight of a life of sacrifice and the pride was palpable.
Serving our Active-Duty and Retired Military Heroes
Joining Heard were veterans from all branches of the military and numerous wars, coming from all over our nation. This included Staff Sergeant and U.S. Airforce veteran, Brad Burger, who served in Desert Storm and flew in from Kansas City to experience the Salute to Service Skybox. There was the group of U.S. Marine Corps veterans who fought in Vietnam who drove from Ohio; Gary Baura, U.S. Navy veteran of 28 years serving in Vietnam; Lance Price, 7-time deployed U.S. Navy veteran; Alex Amorin, active-duty U.S. Marine Corps stationed in Orlando; U.S. Navy veteran, Wade Foster, Commander of the American Legion, Orlando Memorial Post 19; Rose, the 13-month old German Shepherd who guides her veteran with PTSD and short-term memory loss; and finally, Ed, the 96-year old World War II U.S. Army veteran who fought in the Battle of the Bulge.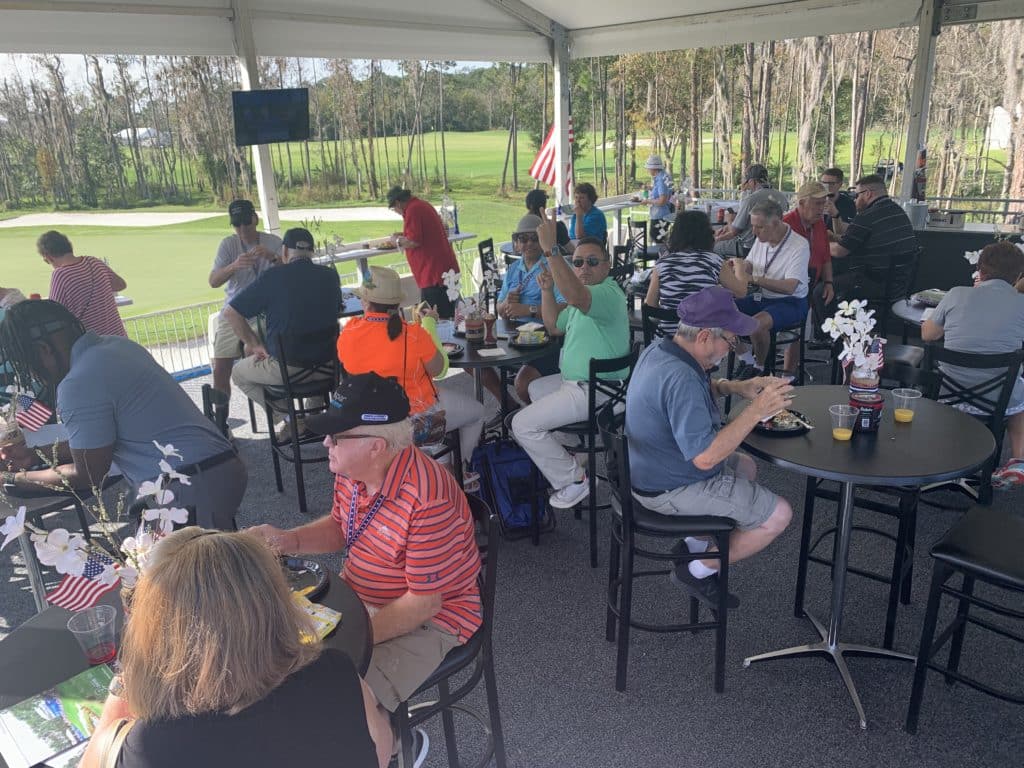 That is something you don't see every day.
Many of these veterans suffer from a disability, either from physical impairment or internal wounds of Post-Traumatic Stress Disorder (PTSD). This makes accessing the golf course challenging or bearing the noise and congestion of crowds unbearable. The Salute to Service Skybox provided a safe, accessible and comfortable seating environment. Complimentary breakfast and lunch were served to all the heroes and their families in attendance.
The additional lawn corral gave the opportunity for veterans to meet with celebrities and golfers, snap pictures, and get autographs. The field of players was overwhelmingly gracious to the military presence, many of whom shouted up to the Skybox showing thanks and support for their service.
The Celebrity + Golf + Veteran Connection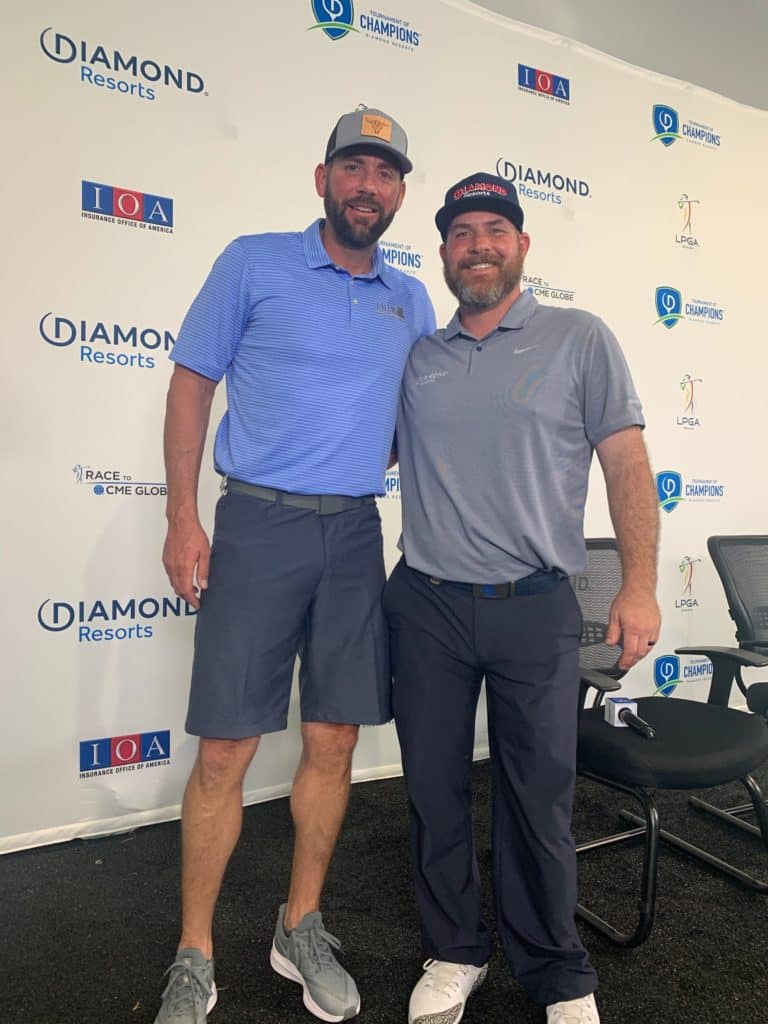 This included celebrity contender, Chad Pfeifer, a combat-wounded veteran and Army Corporal who lost his leg from an IED explosion during his deployment to Iraq in 2007. While in recovery, a fellow amputee suggested golf as an aid in his recuperation. After being fit with his prosthetic, Pfeifer took his advice and played his first round when he "fell in love" with the game. In an interview on Thursday with Damon Kruid, DBK's CEO, he discussed how golf changed his life. This outlet provided a profound positive impact his mental outlook and physical rehabilitation post-combat. Watching him play golf – and play it well – and his interactions at the Salute to Service Skybox was an inspiration to the entire Skybox crowd, bringing them to their feet when he played through.
And, this connection to golf and veterans is the fundamental reason behind the DBK Salute to Service Skybox.
"2 years ago, Alex [Castaldi], from Diamond [Resorts], and I came up with an idea to celebrate our veterans and our first responders, to build something special for them, to come out and enjoy, watch the greatest women golfers in the world paired with celebrities," says Damon Kruid, DBK CEO. "We came up with this idea – hey – let's build this Skybox Salute."


#skyboxsalute, a Worldwide Social Media Gratitude Initiative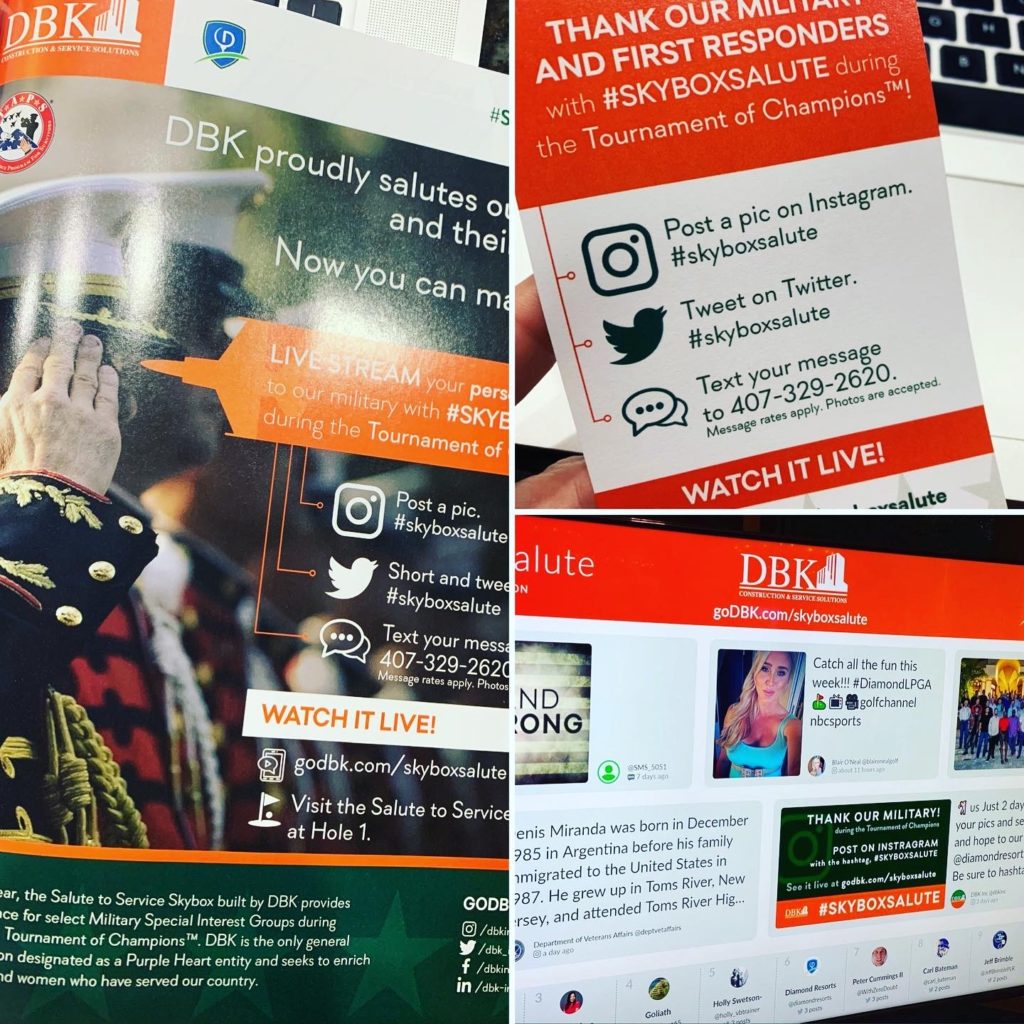 DBK expanded the opportunity to give thanks to our military through their social campaign, #skyboxSalute. Fans could send messages of gratitude, hope, or encouragement to military stationed anywhere in the world with tagged posts on Instagram and Twitter. Participants could also directly send encouragement and photos through direct texting. Inside the Salute to Service Skybox, these messages streamed live on a 70" display visible to all those in attendance. Additionally, anyone could watch the live stream on DBK's website at godbk.com/skyboxsalute. Surprisingly, the veterans messaged their own gratitude to #skyboxSalute, professing this tournament as the "best weekend they've had in a long time."
Charitable Partnerships with Special Interest Military Groups
Sadly, not all military stories are celebratory. Some of America's heroes don't come home to their families, or do so in such despair they take their own lives. But, with our partner organization, Tragedy Assistance Program for Survivors (TAPS), there will always be hope. TAPS cares for the families of our fallen heroes with access to 24/7 grief assistance and mentorship programs at no cost to surviving loved ones.
Colleen Hamilton is one of those family members. Her son, U.S Marine LCPL Spencer Wing, took his own life in 2013. Hamilton, and her sister, Kathy Zenz, joined TAPS representative, Marie Campbell, at the Salute to Service Skybox. They spoke of the role TAPS played in their recovery from such a tragic loss, and the ability it gave them to talk about his death. Because of their assistance, Hamilton and Zenz are avid contributors to the TAPS organization. They now host the Annual Spencer Wing Golf Tournament in upstate New York. Coming into its fifth year, tournament proceeds directly benefit the TAPS organization.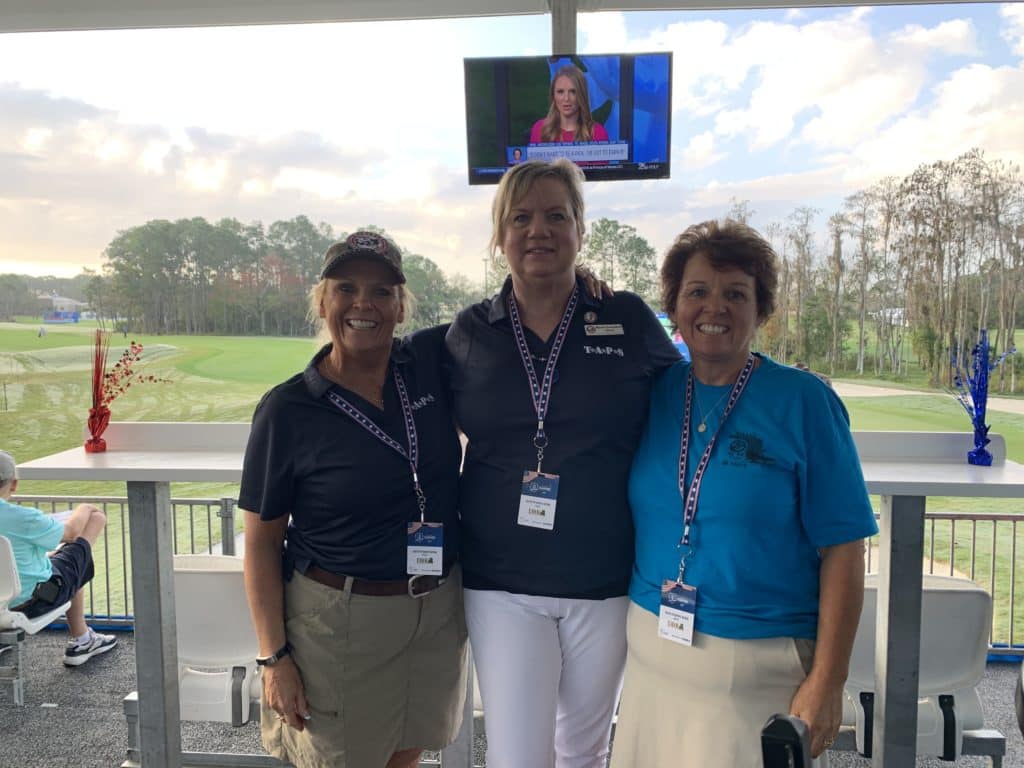 Ben Greene, Director of National Outreach at the PTSD Foundation of America, also joined the Salute to Service Skybox and Tournament of Champions. Greene, a U.S. Navy veteran who suffers from PTSD, used this opportunity to champion Camp Hope. Camp Hope is a program that aids veterans in immediate crisis. Veterans suffering from PTSD are offered free interim housing in a positive and caring environment.
PTSD is a silent disability and the leading cause of depression and suicide in veterans – 22 every day. Greene made contact with several veterans in attendance and arranged for these men and women to receive the support they so desperately need.
The Kruid Foundation is Honored as a Purple Heart Entity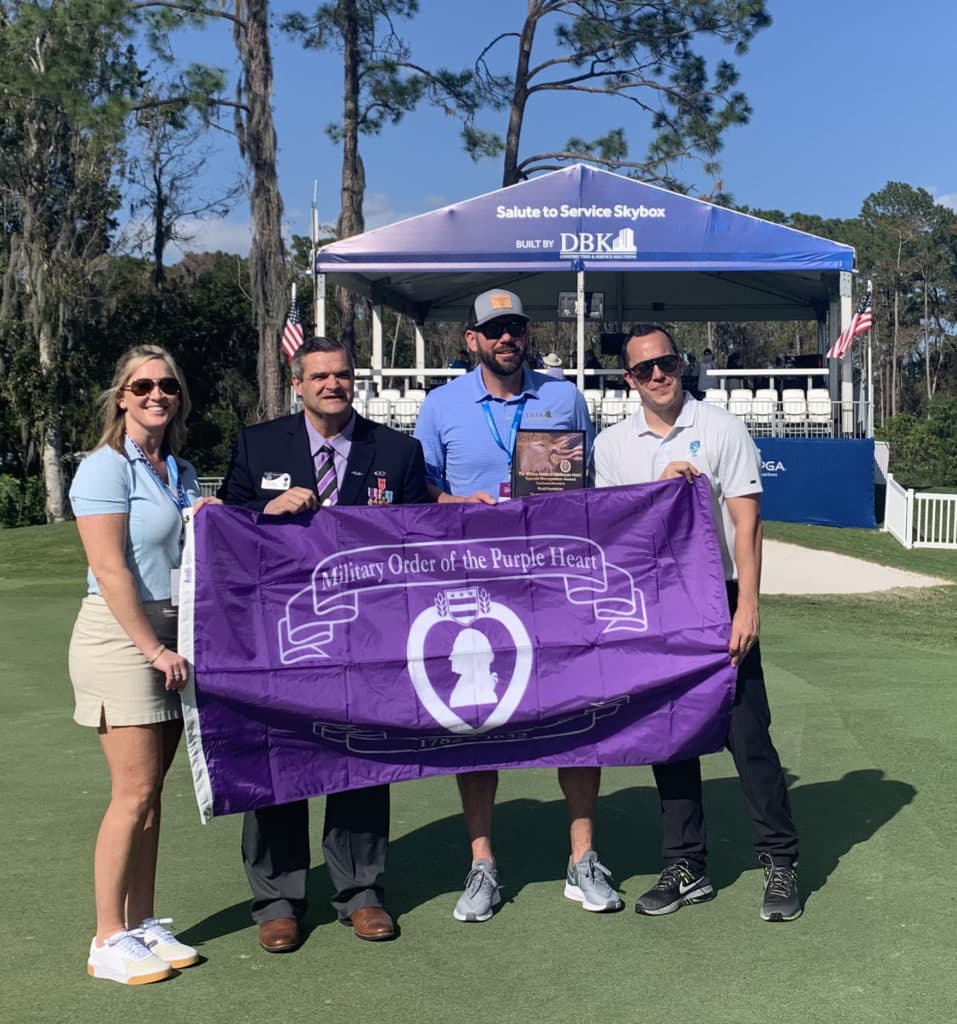 In 2019, due to their recognition and support of military heroes and their families, DBK was bestowed a Purple Heart entity by the Military Order of the Purple Heart. They are the only general contractor in the nation with this certification.
During the 2020 Tournament of Champions in a ceremony on the first green, The Kruid Foundation also received the Purple Heart entity. The Kruid Foundation was started by Damon and his wife, Danielle. It is a non-profit organization seeking to inspire and empower veterans and their families, and give a hand to all those in need.
As the tournament wrapped with a 7-round playoff win by Gaby Lopez, the United States flag still flew high on the green of the first hole. The Salute to Service Skybox was empty, but pros and the celebrities still signed memorabilia and snapped photos with fans. The colors of Old Glory waving in the breeze was the final tournament salute to our American heroes. It is their sacrifice that affords our freedom to celebrate such events as the Diamond Resorts Tournament of Champions.
With deep and humble appreciation, thank you for your service.